High Containment Laboratory Skills Training Program
NBAF Laboratorian Training Program (NLTP)
Applications OPEN for 2023
The Department of Diagnostic Medicine/Pathobiology in the College of Veterinary Medicine and the Biosecurity Research Institute (BRI) at Kansas State University are accepting applications for up to ten undergraduate or recent B.S. graduates for fellowship positions for the summer of 2023. This program, sponsored by the U.S. Department of Agriculture Animal and Plant Health Inspection Service (USDA APHIS), is designed to build technical skills and knowledge needed to work in a high containment diagnostic, animal, or insectary laboratory.
This summer fellowship program will provide introductory knowledge and skills through lectures and hands-on experiences in:
conducting viral assays in a high containment laboratory at the Biosecurity Research Institute (BRI),
conducting assays and procedures commonly used in a diagnostic laboratory,
common procedures used in a high containment large animal research setting,
working with mosquitoes for use in a laboratory setting, and
how to apply for positions with USDA APHIS or other government laboratories, such as, the Foreign Animal Disease Diagnostic Laboratory (FADDL), the NBAF in Manhattan, KS, or the National Veterinary Services Laboratories (NVSL) in Ames, IA.
Qualifications:
Must be a U.S. Citizen
Must be entering junior or senior year of undergraduate study OR have recently graduated from an accredited undergraduate program with a B.S. degree in the field of biology, chemistry, microbiology, agricultural sciences or other related majors
Exhibit a strong interest in working at NBAF or NVSL in a laboratory position
Program requirements:
1) Must be available for:
late spring and fall 2023 for one-hour weekly seminars via video conference or recordings,
K-State's online course: DMP691 Introduction to High Containment Laboratory Topics and Techniques as a degree or non-degree seeking undergraduate or graduate student (depending on credit preference) during the summer 2023 three-week intersession, and
an in-person eight-week training seminar at the BRI which will be held June-July 2023 with variable hours.

The seminar program will consist of formal presentations and interactive discussions with subject matter experts and hands-on training activities in the BSL-3 training laboratory, BSL-2 containment laboratory space, containment animal space, and ACL-1 mosquito rearing space.
2) Students will be required to pass a background check by May 2023.
3) Must complete all required documentation and online trainings by due dates assigned by organizers.
Benefits:
$7,000 stipend
Required application materials:
Each applicant must submit the following:
completed NLTP application form (PDF), including contact information for three professional references,

current curriculum vitae, and

cover letter expressing your interest in the program and what you would like to gain from this experience.
Deadline:
For consideration, applications must be received by 11:59 p.m. CT, March 5, 2023.
The search committee will select up to 10 candidates for the 2023 NBAF Laboratorian Training Program. Candidate selection and notification will be emailed to applicants starting March 10, 2023.
For more information, attend our informational question and answer Zoom meetings as described below and or contact Natalia Costa Ball (nataliacball@bri.ksu.edu).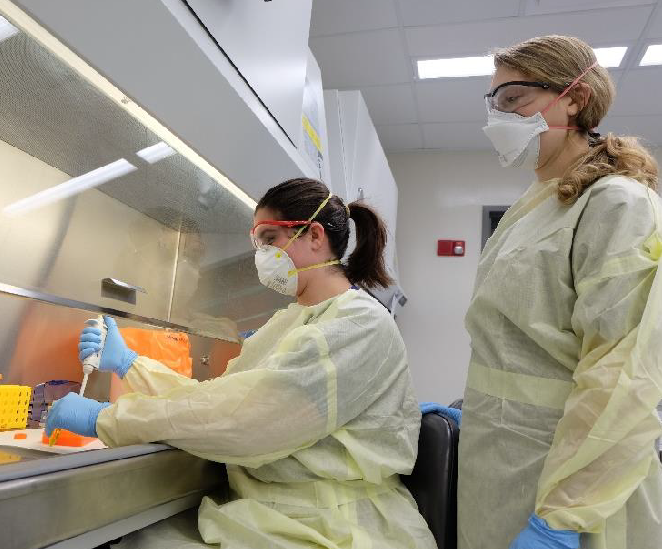 NLTP Laboratory Technician Training Program Flyer
Who should attend the question and answer informational meetings?
Junior and senior level undergraduate students, or recent graduates with a B.S. in biological sciences, microbiology, chemistry, agricultural sciences, or related fields, who are interested in working in a high containment laboratory position.
Informational meetings will be held via Zoom, please contact Natalia Costa Ball (nataliacball@bri.ksu.edu) for a Zoom invitation.
Dates and times of Informational meetings for spring 2023:
Tuesday, Feb. 14 - 9 a.m.
Thursday, Feb. 16 - 1 p.m.
Friday, Feb. 17 - 12 p.m.
Monday, Feb. 20 - 10 a.m.
Wednesday, Feb. 22 - 3 p.m.
Friday, Feb. 24 - 11 a.m.
If you cannot attend one of the information meetings listed above and want to know more about the NBAF Laboratorian Training Program please email Natalia Costa Ball (nataliacball@bri.ksu.edu).
Submit all application materials to: nataliacball@bri.ksu.edu