While this program is not currently active, we are proud of our Fellows who completed the Transboundary Animal Disease Fellowship program and students who received training. We appreciate the funding partners who made the program possible for three cohorts of students.
Transboundary Animal Disease Fellowship Program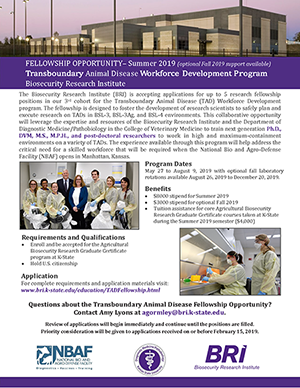 Location: Biosecurity Research Institute at Kansas State University
Campus: Manhattan, Kansas
Starting date: September 2015 Ending date: March 2020
Summary:
The Biosecurity Research Institute (BRI) is accepting applications for up to 5 research fellowship positions in our 3rd cohort for the Transboundary Animal Disease (TAD) Workforce Development program. The fellowship is designed to foster the development of research scientists to safely plan and execute research on TADs in BSL-3, BSL-3Ag, and BSL-4 environments. This collaborative opportunity will leverage the expertise and resources of the Biosecurity Research Institute and the Department of Diagnostic Medicine/Pathobiology in the College of Veterinary Medicine to train next generation Ph.D., DVM, M.S., M.P.H. and post-doctoral researchers to work in high and maximum-containment environments on a variety of TADs. The experience available through this program will help address the critical need for a skilled workforce that will be required when the National Bio and Agro-Defense Facility (NBAF) opens in Manhattan, Kansas. The ideal candidate will have a demonstrated academic commitment and work history in an area closely related to TAD research.
Fellows will enroll in the Agricultural Biosecurity Research Graduate Certificate program at Kansas State University. The program is designed to instill common biosafety, containment, research laboratory, animal handling, and regulatory compliance skills and proficiencies required to conduct TAD research in high-containment research settings.
Requirements and Qualifications:
Fellows will be required to attend the two 4 week summer sessions at KSU from June 10, 2019 to August 2, 2019 to fulfill the requirements for the 12 credits of core graduate level classes for the Agricultural Biosecurity Research Graduate Certificate program at KSU. Fellows are also required to be accepted as a member or as a rotation student in a laboratory that conducts research on viral or bacterial agents that are important to agriculture. Laboratory rotations for the summer will be available approximately May 27, 2019 to August 9, 2019 and optional fall term laboratory rotations will be available approximately August 26, 2019 to December 20, 2019.
Additional Requirements and Qualifications:
Enroll in the Agricultural Biosecurity Research Graduate Certificate Program at Kansas State University

Selected candidates will need to be currently enrolled in a Ph.D., M.S., M.P.H., and/or DVM program at Kansas State University or will need to apply to a related Graduate, Ph.D., M.S., M.P.H., and/or DVM program at Kansas State University. You do not need to be a current student to apply for the fellowship, but you must meet all KSU graduate school qualifications, apply, and be admitted before beginning the fellowship.
Or, possess an existing relevant Ph.D., M.S., M.P.H., or DVM and be accepted to the KSU graduate program as a non-degree seeking student prior to beginning the fellowship.

Hold U.S. citizenship and complete eVerification documents prior to beginning the fellowship.
Be able to pass required background checks and may be required to undergo a select agent Security Risk Assessment (SRA) clearance and registration prescribed by the Federal Select Agent Program.
Possess superior interpersonal skills, excellent written and oral communication skills, ability to work as a member of a team, have an excellent work ethic, and commitment to detail.
Ability to work in BSL-3 laboratory space and work with large animals in BSL-3Ag research spaces.
Physical requirements include carrying equipment and instrumentation (up to 50 lbs.), walking (up to 2 miles per day), climbing (areas not easily accessible), standing (up to several hours) and moving heavy objects (25-100 lbs.).
At least average agility required in order to maneuver on a daily basis between containment research spaces and support spaces.
Ability to wear personal protective equipment under extreme conditions of heat or cold, including but not limited to various respiratory protection devices, Tyvek, boots, gloves, etc..
Ability to work with the potential for safety hazard exposures, chemical, and infectious disease exposure. Protective vaccines will be offered as needed.
Research projects that produce posters, or papers will require DHS approval prior to publication or presentation.
2019 Cohort Benefits: