Biocontainment Operations
BRI's biocontainment operations is a customer-oriented unit whose goal is to help facilitate your project. BRI staff will assist you in evaluating your research needs, selecting appropriate spaces to work within the building, developing SOPs, selecting and installing specialized equipment, training you and your staff, and troubleshooting problems that arise during your research at the BRI. For more information on operational support services, please contact the Director of Biocontainment Operations. With the exception of the supplemental operational support services, all services are included with room rental fees.
Routine support services listed below are included in fees (unless otherwise noted).

Facilities & Equipment
Use of common spaces, including:

Autoclave rooms
Change vestibules
Corridors
Animal support spaces

Maintenance staff with expertise in operations of biocontainment facilities
Building Management System to control and monitor all critical building equipment
Redundant equipment systems to ensure a safe work environment for all research
Basic repair and maintenance services
Utilities and telephone

Operations Support
Required space decontamination services
Laboratory support services and coordination

Laundry services
Basic required laboratory clothing for use inside biocontainment areas
Waste management (autoclave, tissue digester, effluent decontamination, radioactive materials, sharps, chemical waste, required supplies unless outside of expected quantities and types)
Equipment inventory management
Shower supplies (standard shampoo, soap, towels)
Stock room operations (supply costs reimbursable to the BRI as appropriate

Standard required personal protective equipment (PPE), including:

Disposable gloves
Disposable gowns
Eye protection
Disposable respirators
Tyvek covers (sleeves, suits)
Animal handling protection

Core laboratory equipment, including:

Biosafety cabinets
Deionized water source (house system)
As available:

Incubators
Freezers
Refrigerators
Supplemental operations support services:
(additional fees apply)
Specialized personal protective equipment (PPE) requirements (e.g., non-disposable respirators) based on risk assessment of individual projects
Specialized facility improvement or modifications for equipment installation and use
Special decontamination services
Special waste disposal needs
Kansas State University Comparative Medicine Group (CMG) services specific to the BRI:

Animal care staff
Veterinary technician staff
Biocontainment Veterinarian
Feed
Animal room set-up
Cage wash
Transportation and delivery
Supplies at cost, plus order fees

Information Technology
Reasonable individual space on network drives for data storage and retrieval
Internet and network connection from biocontainment space (individual PC connection must be authorized by the information technology officer)
Information technology support, including management of secure data network with automated back‐up.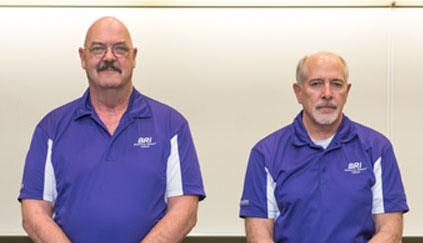 Security Operations
Physical security program administration and management, including:
Controlled access
General background investigations
Camera systems